Story from Norfolk Paper
by Jeery Gunther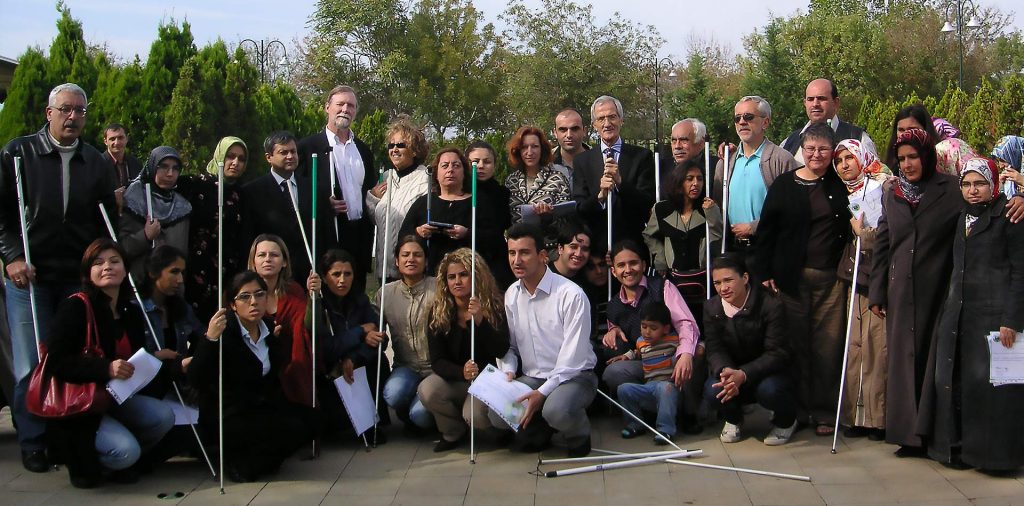 No matter how different the culture, people have a heart to learn and a heart to give.
John Schmitt of Norfolk, who has previously traveled to several countries, including China and Vietnam, recently was reminded of that lesson while on a trip to Istanbul, Turkey.
The rehabilitation counselor, who works for the Nebraska Commission for the Blind and Visually Impaired, spent much of last month in Istanbul with the Blind Corps.
While there, they put on a two-week training session for teachers of the blind and visually impaired in Turkey.
Schmitt said he wondered during the first few days of his visit if the Turkish residents would think of them as just a bunch of people coming from America to show them how to do things.
While a few of the Turkish people may have thought that initially, they soon demonstrated how eager they were to learn, he said.
They also were proud of their country and were willing to share their culture, Schmitt said. I appreciated that and enjoyed learning about the customs.
Blind Corps was formed in 2005 to address the rehabilitation needs of blind people in developing nations. Its mission is to share the knowledge and experience of American rehabilitation professionals with natives of developing nations, including the blind themselves.
This is the second time Blind Corps has traveled to Istanbul but the first time for Schmitt. The Municipality of Istanbul paid for the nine-member group's trip.
They were gone from Oct. 1 to Oct. 19. They arrived at Ataturk International Airport in Istanbul after an 11-hour flight from Chicago on Turkish Airlines.
Schmitt said Istanbul is the only metropolitan area in the world that is built on two continents, Europe and Asia. Its estimated population is somewhere between 12 million to 15 million people, but it grows by about half a million people every year.
Istanbul was chosen because the leader of the group, Fatos Floyd, was born and raised in Istanbul. The Lincoln woman also served as the main interpreter.
She became blind after high school and came to the United States after college.
Schmitt said it is interesting to note how influential the United States is with the rest of the world. The economic woes on Wall Street and the presidential election were close at hand while in Turkey.
We were told by several people that they watch these issues, as they affect the United States ó closer than they do their own elections and economic situation, he said.
Last year, there was somewhat of a problem in getting the local participants to agree to work with members of the opposite sex. With most of the students being Muslim, some of them refused to let a teacher of the opposite sex touch them with hand-over-hand techniques, Schmitt said.
This year, there was an understanding made in advance that all students would be willing to work with teachers of either sex.
Schmitt said his group also brought over many supplies and specially adapted pieces of equipment that they left for people to use.
Students who had some vision were required to wear blindfolds during the training. The blindfold is used as a training tool so the student concentrates on learning skills in a non-visual manner, he said.
The Muslim call to prayer was clearly heard five times a day as there was a mosque just outside the camp gates.
Schmitt said he used vacation time to take the trip, but Istanbul paid for the group's travel, lodging and food.
Our program was extremely intense, with long hours, and had the added strain of communicating with mostly sign language, Schmitt said. In spite of this, many wonderful friendships were forged.