in Nepal -
Blind Leading Blind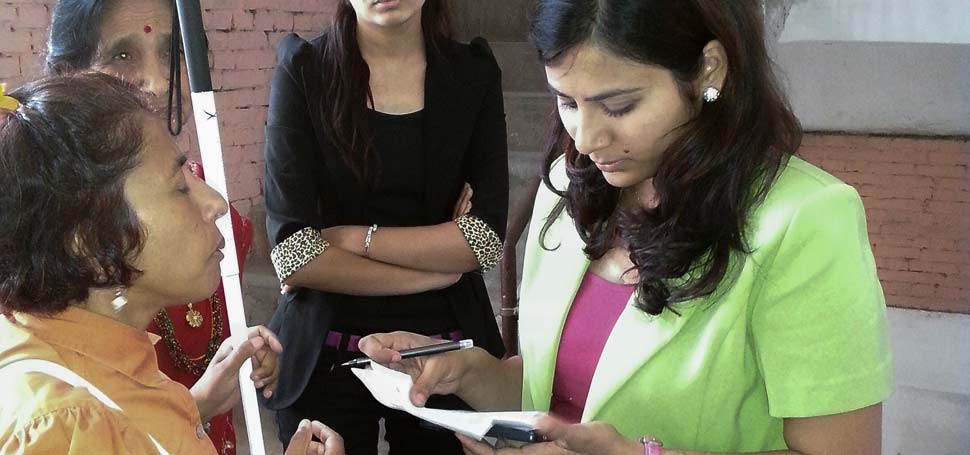 Families and communities working together with the blind
Blind Leading Blind is a global program by BLIND CORPS to mobilize families, communities, businesses, volunteers, rehabilitation coaches, support organizations, government agencies, and the blind themselves to work together to enhance the way of life of the blind.
TOOLS, TECHNIQUES, & TRAINERS
BLIND CORPS travels to developing nations to bring white canes, digital Braille note taking devices, screen reader software, and experienced American rehabilitation specialists to conduct a two-week intensive training program. Based on the standard nine-month program, Blind Leading Blind is a power-packed two-week course for forty-fifty students. Professional trainers teach white-cane travel techniques, Braille literacy, digital technology skills, and strategies for independent living.
"It was a historical moment on the hike, I might be losing vision, but am maintaining my vision for the future," Suresh Neupane
In addition, BLIND CORPS volunteers coach prospective employers and educational institutions to improve opportunities for gainful employment and access to relevant education and degree programs. The primary goal is the empowerment of blind people as they strive for economic, social, and political equality – to mobilize them and the support they need.
THE TEAM FOR NEPAL 2013
BLIND CORPS is preparing for Blind Leading Blind to go to Kathmandu, Nepal in the Summer of 2013. Following three successful training programs in the Republic of Turkey in 2007, 2008, and 2010, Blind Leading Blind is headed to the home town of project coordinator Buna Dahal. Buna Dahal, of DynamicBuna is a leadership strategist, professional development coach, and dynamic keynote speaker. Impassioned by her own personal journey as a blind person growing up in Nepal and traveling to the United States for college, she is leading the team of volunteers for the Blind Leading Blind project in Nepal.
Volunteers joining Buna and team Blind Leading Blind in Nepal are Nancy Flearl, a professional rehabilitation counselor for the blind of more than 30 years; Kim Adams, retired K-12 teacher of the blind in Nebraska for more than 30 years; and Carleen Clearwater, owner of Kickass Marketing and Creative and a creative professional of more than 20 years is coming to capture and tell the Blind Leading Blind story to mobilize efforts for future BLIND CORPS programs and projects.
"I had never tried to find anything myself when I lost or dropped it, depended on others," Bindu Neupane
FAMILY, FRIENDS, AND COLLEAGUES WE NEED YOU
The fundraising goal for Blind Leading Blind Nepal 2013 was $50,000 through cash and/or in-kind donations to cover travel accommodations, training, and equipment. We need your financial support to continue the success of BLIND CORPS. We need your partnership.